Single School Plans
With the 2003 adoption of the 5 year strategic plan and the increasing need to insure school sites are focused on improving student achievement, the Education Services department is transforming the Single School Plan (SSP) process. A cycle of inquiry model used by schools who participated in a Bay Area Reform School Collaborative(BASRC) has been adopted as a template for the SSP process. Due to the iterative nature of the cycle of inquiry model, additional refinements to the SSP process will occur over the coming years. The ulitmate objective of changing the SSP process is to create a vibrant learning community that both value and promote learning improvement .
Each year every school site prepares a SSP. The SSP is a plan of action to be taken to raise academic performance of students and improve the school's educational program. The school site council consisting of administrators, teachers, staff and parents approve the SSP. The SSP plan for each site is then approved by the Board of Education in January. In May the school sites participates in a protocol that serves as a year end review.
In September, 2005, the Assessment department established their first plan action using the SSP process. In the November, 2005 School Leadership Council training, District staff introduced a framework for successful school, family and community partnerships. These partnerships are an essential component of that will influence student development and learning.
Single School Plan Timeline
While the school year runs from September to June, the current timeline for the Single School Plan runs from January to December. In an ideal world, Single School Plans would start in September but current timing issues related to release of assessment data needed for the Single School Plan have changed the timeline. It is expected that as assessment data becomes more accessible the timeline will transition closer to the start of the school year.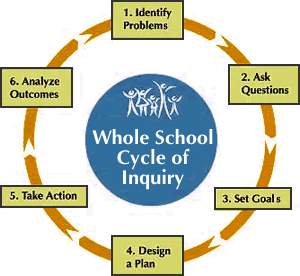 The cycle of inquiry model's six steps are further defined here.
Here is an example of a SSP by Paden School, the longest active school in BASRC: SSP using COI.
Here are additional resources that examine practices related to school reform from the Coalition of Essential Schools.
In 1997 the San Diego City Schools Board of Education approved A District Accountability System for Improving Student Achievement. To monitor progress, District Staff developed a set of rubrics to help them.
Single School Plans from 2004 through 2007
Single School Plans for 2009 and beyond are located on the AUSD website.
Send mail to mikemcmahonausd@yahoo.com with questions or comments about this web site.
Last modified: May 20, 2004
Disclaimer: This website is the sole responsibility of Mike McMahon. It does not represent any official opinions, statement of facts or positions of the Alameda Unified School District. Its sole purpose is to disseminate information to interested individuals in the Alameda community.